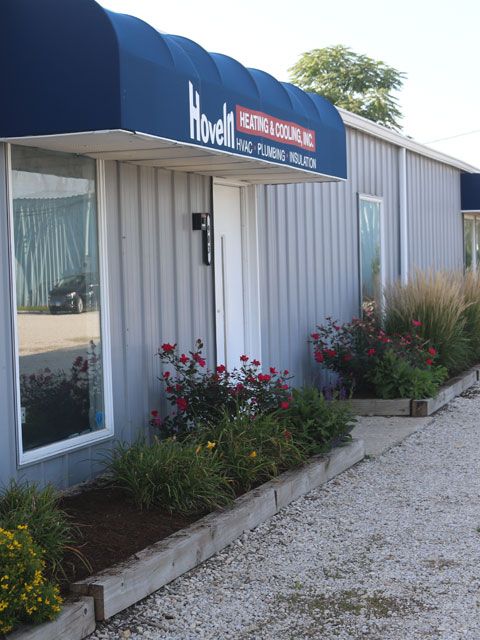 As a third-generation, family-owned residential heating, ventilation, and air conditioning (HVAC) company, we at Hoveln Heating and Cooling, Inc., have been serving the Thomasboro, IL, area since 1977. Being an integral member of our close-knit community, we know our customers by name. It's important you can depend on us to help you with all your heating, cooling, plumbing, and geothermal needs, 24 hours a day, seven days a week. We are always open, because you can rely on us to be there when you need us most.
Our Mission
Our mission statement: 

To provide the highest quality service, installation expertise, and materials to our customers in an efficient and clean manner. To install reliable, comfortable, safe systems, and to provide the highest satisfaction at affordable and profitable prices to our customers to assure the longevity of the company and security for our customers.
We take our mission statement very seriously and work hard to uphold it. You, our customer, are like family to us, and we only want the best for you—the best service, the best systems and equipment, and the best prices. As such, we continually strive to educate all our team members so we can offer you the optimum and most up to date the industry has to offer in all areas.
Our Heating and Cooling Services
At Hoveln Heating and Cooling, Inc., we service all brands and models of HVAC systems—from air conditioners to furnaces to ductless systems to heat pumps to whole-house generators. Whatever you have in your home, we will service and maintain it, or if you are in need of a replacement, our professionals can help you with that as well. And if you are currently building a new home, talk to our HVAC team members to discuss what would work best with your plans. Our experts can both design your system and install it.
Geothermal heating and cooling is one of the most energy-efficient and environmentally friendly systems for heating and cooling your Thomasboro-area home. A geothermal system uses the constant-temperature heat from the ground, not burning any fuel in the process. We installed our first geothermal system back in 1979, making us the foremost geothermal experts in the area. Give us a call if you would like to know more about this. Our heating and cooling professionals would love to talk to you.
We know what an investment a heating and cooling system is. To keep its energy efficiency high and to extend its life span, as well as to prevent unexpected breakdowns, we highly recommend regular maintenance. That's why we offer a comprehensive maintenance plan to our customers—it's a cost-savings measure for you. Talk with one of our team members to see how our plan can help you.
Our Plumbing Services
In addition to heating and cooling, we offer a vast array of plumbing services. Our team of licensed plumbers is here for all your plumbing needs. Everything from repairs to installing new water heaters, we have you covered. 
Our Geothermal Services
Hoveln Heating & Cooling, Inc., has been installing and servicing geothermal heat pumps for decades. In fact, since installing our first geothermal system in 1979, we've considered ourselves geothermal system experts in the central Illinois area! Contact our office to learn if a geothermal heat pump is right for you, and how we can help you save energy in your home today.
Our Certifications
When it comes to having a professional service in your Illinois home, isn't it a given you would want a company who has the certification to back up its services? That's exactly what we and our professionals have. Our technicians are North American Technician Excellence (NATE) certified. 
NATE certification shows functional, real-world knowledge of HVAC systems and requires continuing-education hours to maintain the certification. This ongoing training means whichever Hoveln technician servicing and/or installing your residential HVAC system is up to date on the industry's latest information and techniques.
We are also a Bryant Factory Authorized Dealer. This means you can rest assured that not only do we provide high-quality Bryant products and service, but Bryant says we do it well. 
You Can Depend on Us
No matter what your heating, cooling, and/or plumbing needs are here in Thomasboro, IL, give us a call. Our Hoveln Heating and Cooling, Inc., professionals have the knowledge, training, and experience to help. And you can trust we will do our utmost to be sure you're satisfied. It's our priority.